Alstrom International Private Limited , an ISO 9001:2008 Certified Company is specialized in Aluminium Composite Panel, Metal Aluminium Panel , Partition Composite Panel and Fire Resistance Aluminium Composite Panel etc with ALSTROM Brand. AIPL is located in Ahmadabad, Gujarat and having warehouses in different part of the country for quick and efficient delivery.

We mainly offer PVDF aluminium composite panel, Polyester aluminium composite panel, Brush aluminium composite panel, Fireproof aluminium composite panels, Wooden and Marble aluminium composite panel, Printing design interior aluminium composite panel, Back Coat aluminium composite panel. We have 15 years of ACP industry experience. we have learnt lots of knowledge and experience to offer high quality with competitive price. Our reliable products and competitive prices have made our aluminium composite panels popular for applications ranging from architectural exterior and interior wall decoration, to advertising boards and exhibition room construction.

AIPL Group has been in the Aluminium composite panel industry for more than 15 years. We put our experience to work to deliver high quality, low priced PVDF aluminium composite panels, PE coating ACP, fire resistant building ACP, and FEVE ACP, for clients all over the country. In order to offer competitive prices, we continually strive to reduce costs, while maintaining quality. Cooperative relationships with our material suppliers, and purchasing in bulk to reduce our production costs. Utilizing advanced production equipment and providing staff training to enhance worker's skills also improves our production efficiency and reduces our labour cost.

Numerous specifications are available with thickness varied from 2mm to 6mm, and width from 915mm to 1600mm. Special coatings on offer include PVDF(Kynar500,Hylar5000) and Polyester.

We are one of the major standard setter for Aluminium Composite Panel in India, AIPL Group places much emphasis on science and technology; makes sustained efforts to enhance the innovation ability. AIPL Group has been sticking to the principle of Orientation to Quality and Creation of Famous Brand. With their economical prices and reliable performance, our aluminium composite panels are popular all over the country. Our aluminium decorative panels are the optimum choice for all of your wall decoration and protection, billboard making, and related project needs.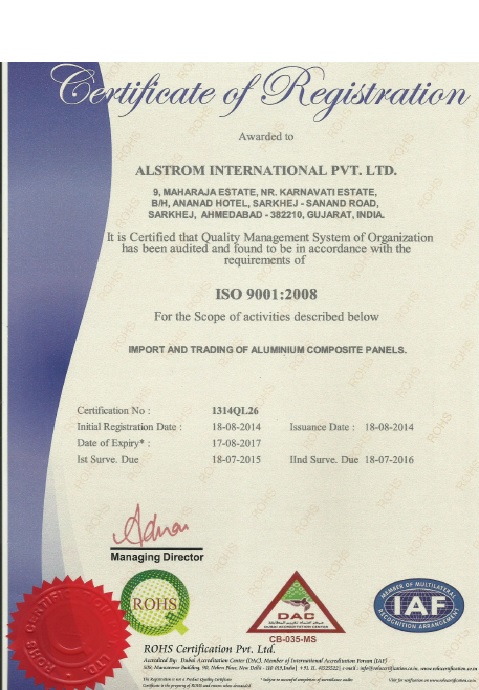 Please contact us with any questions or requests you may have, or if you do not find what you are looking for. We look forward to fulfilling your composite panel needs!

CONTACT US